How to Add Anchor Points in Illustrator
By Spencer Martin | Updated: August 1, 2022
Every shape, path, and object in Illustrator is constructed from anchor points. In this video tutorial, learn how to add anchor points in Illustrator using the pen tool.
How to Add Anchor Points in Illustrator
Adding and deleting anchor points is a fundamental skill in Illustrator. The construction of logos, illustrations, and other vectors are all based on anchor points.
To add, remove, or edit anchor points in Illustrator you need to use the pen tool or direct selection tool. The shortcut key for the pen tool is P and you can add or remove anchor points just by clicking on them. You can also edit the curve handles by holding Alt/Option while hovering over an anchor point.
The direct selection tool shortcut key is A. This tool allows you to directly selection portions of an object or even individual anchor points. From there you can move anchor points or even delete them. One thing to note, deleting points with the direct selection tool will break your path and you'll need to reconnect by using the pen tool.
For more beginner Illustrator tutorials, head over to my Illustrator YouTube Channel.
Spencer Martin
Spencer is a graphic designer and content creator who creates educational tutorials. He graduated with honors from Ball State University and received a BFA in Visual Communication. Today he is the Director of Content for Pacers Gaming and runs Pixel & Bracket LLC, an educational resource for creators.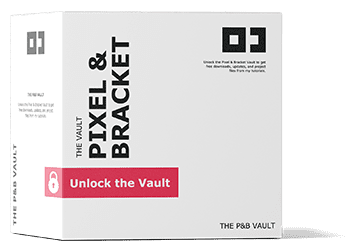 Access free downloads in the P&B Vault!
Unlock the Pixel & Bracket Vault to get free downloads, updates, and project files from my tutorials.
Unlock the Vault