How to Bend Lines in Illustrator
By Spencer Martin | Updated: August 2, 2022
In this video, learn how to make a bend lines in Illustrator without using the pen tool.
How to Bend Lines in Illustrator
Instead of using the pen tool, we can use the anchor point tool to bend lines in Illustrator. Select the anchor point tool and hover over any area of your path between anchor points. The cursor will change and allow you to click and drag to bend that path.
You can select multiple areas of the path to bend the line to your desired shape. The shortcut key for the anchor point tool is Shift + C. If you already have the pen tool open, you can also hold Alt/Option to use the anchor point tool.
For more beginner Illustrator tutorials, head over to my Illustrator YouTube Channel.
Spencer Martin
Spencer is a graphic designer and content creator who creates educational tutorials. He graduated with honors from Ball State University and received a BFA in Visual Communication. Today he is the Director of Content for Pacers Gaming and runs Pixel & Bracket LLC, an educational resource for creators.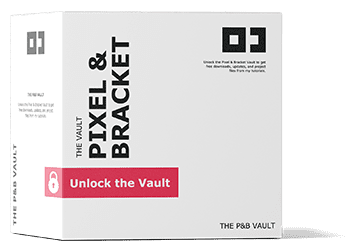 Access free downloads in the P&B Vault!
Unlock the Pixel & Bracket Vault to get free downloads, updates, and project files from my tutorials.
Unlock the Vault